Old Men in Cleatsby Kaya
I have a question. Well… actually I have dozens, but I don't think *you* are in any position to explain why I keep imagining myself rushing to the aid of the little girl in the Coppertone ads or why Carson from 'Queer Eye for the Straight Guy' is doing ads for Goldfish Crackers.
Which brings me to my question, one that pops in my mind every spring like a popping up image in a pop-up book. The baseball season has begun and the glory of America's pastime is underway. Teams look to their skipper to build a cohesive unit and lead them to victory. Using an elaborate set of statistics and gut instincts built on decades of baseball know-how these coaches guide million dollar athletes to peak performance and mastermind games like a work of spit-fueled art. All this begs the question why do baseball coaches wear baseball uniforms?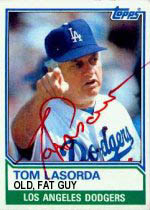 I understand why the players are in uniform, as they actually play baseball, but why are the 70-year old coaches suited up? Is there a chance they might get in the game?
"Quick, I need a pinch runner…DAMN! Lasorda's not suited up!"
Basketball coaches don't wear baggy shorts and jerseys to the games, football coaches aren't seen with shoulder pads and athletic tape wrapped around their joints, swim coaches, thankfully, don't wear Speedos to meets, and badminton coaches…well, I have no idea what they wear, but I imagine they dress differently than the players. If you're a coach, dress like an adult. Why are you wearing stir-ups? And cleats…not to be rude, but you're a senior citizen, when do you need that kind of traction?
I'm not saying I don't appreciate the way those snug polyester baseball pants gently cradle the groin of formerly athletic older men… quite the contrary. I am saying, that if I coached a baseball team it would be a lot different. Speedos for everyone. Athletes, coaches, referees, fans…everyone.
Everyone.
by Kaya at April 26, 2004 07:26 AM